Holiday Special & New Beg's Piano Workshop
Tuesday, November 19, 2019 by Trevor Eisenman | Uncategorized
Dear Parents,
As Thanksgiving and the Holiday Season approaches, I'd like to express my gratitude for all the teachers, students and parents who make up our Fun Music School community. I appreciate your investment into your children's education (or your own, if you're an adult student). It's also an investment into the community and future leadership, because of the cognitive development music education brings to the table.
So thank you for being there and contributing to bettering our culture as a whole.
For the Holidays we are also announcing a Special Offer for music lessons, for new students. If you would like to share the gift of music with others, remember we do give a $20 credit for each referral that signs up and purchases lessons for at least a month. Special kudos to Kelly Katzberg, Connie Millar, Ashima Gupta and Rathi Ranganathan who have referred new students since the Fall season started! It makes a huge difference when parents refer our teachers.
If you'd like to share us with your friends, neighbors and family members, here is our current special valid through Dec 15th: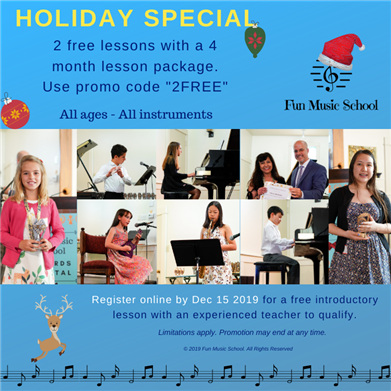 Click the image or click HERE to redeem the offer above online.
We are also announcing a new beginner's piano workshop!
This 8 lesson course features a playing-based approach to piano that has students playing songs from their first lessons. The very first piano workshop is scheduled to take place in December, and the tuition is half-off because it's a test-pilot (or beta test, if you're Gen X or a millennial!). As this is our very first workshop, we'll be testing our format and the whole process, so now's your chance to take advantage of the lower tuition!
Normally the classes would be 1X per week, but for the test we probably doing 2 classes per week to get through it quickly. While the workshop is suitable for ages as young as 6, we recommend parents take the workshop with younger children to help them along. The workshop has some really great features and is a unique approach to learning piano. I have tested it personally on children and adults, and the results were astounding!
To find out more, visit our new webpage detailing out the the workshop: Fun Music Piano Workshop
All of us here at Fun Music wish you a fantastic and family-filled Thanksgiving Holiday and we look forward to seeing you soon!
Thanks,

♫ Trevor Eisenman
Managing Director
Fun Music School
cell: 626-975-6726
Serving the Crescenta Valley since 2003