CLICK HERE to register for a free introductory lesson!
Online lessons are now available!



We teach all instruments and all ages from beginner to advanced.
We make music FUN so students are most likely to stay with it and experience the life-long joy we teachers feel.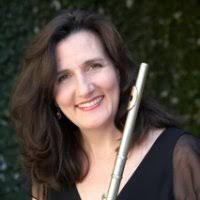 STUDIOS in Altadena, La Crescenta or in your home.
Sheila is a professional flutist and pianist. She also teaches recorder . Sheila and her husband Eric are both working musicians.
Sheila is a graduate of the Aaron Copland School of Music. Her former studies include the San Francisco Conservatory of Music and Illinois State University where she won first place in the Concerto Competition, as well as studying Flute under Robert Stallman at Queens College, NY and with Yale University instructor, Thomas Nyfenger. She has had many years experience teaching students and one of our most popular teachers.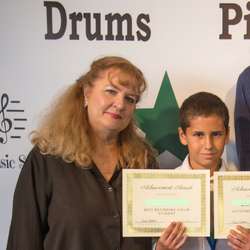 STUDIO in La Crescenta or 10 mile radius to your Home
Michelle has a Bachelors of Music Education and teaches Violin, Viola, Cello & Bass. Michelle instructs students either at their home (La Canada, La Crescenta, Montrose, Tujunga, Glendale) or in our studio in La Crescenta. Michelle received a full musical scholarship and taught strings in Texas for many years prior to coming to Los Angeles. She has played with Frank Sinatra, Wayne Newton; the Santa Barbara, Long Beach and Pacific Symphonies, as well as the Pasadena "Pops" Orchestra (currently).

STUDIO in La Crescenta or 10 mile radius to your Home.
Stephen is a Los Angeles-based woodwind performer originally from Buena Park, California, who earned a Bachelor of Music degree in Jazz Studies at the USC Thornton School of Music. He specializes in Saxophone and Clarinet and Recorder, in various genres including jazz, classical, R&B, and funk. While at USC he studied with Jason Goldman, Kim Richmond, and Bob Sheppard. Stephen enjoys teaching students of all ages, helping them develop the technical skills to express their musical ideas.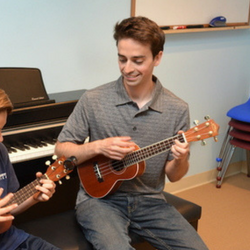 STUDIO in La Crescenta and 10 mile radius to your Home.
Baltimore, Maryland native Gaetano "Guy" began his love affair with the guitar at the age of eleven after discovering Led Zeppelin. Starting with lessons at local music school, by the time he reached high school he had begun playing in bands and constantly working to feed his ever-evolving music taste (which grew to include various rock styles, heavy metal, blues, and jazz). An internship at The Music Workshop in Baltimore (where he also took lessons) in his senior year of high school helped him discover an innate knack and passion for teaching music.
In the following years, he worked to develop his teaching ability independently before taking a position as a guitar instructor at Bones Jones Music in Rockville, Maryland after graduating from the University of Maryland, College Park. He recently relocated to the Los Angeles area to study at Musicians Institute in Hollywood, continue to develop his skills as an instructor, and get involved in the local music scene.
His skills combined with his cheerful and encouraging personality are ideal for both adult and young students. He can teach all the modern guitar styles including jazz. He teaches ukulele as well.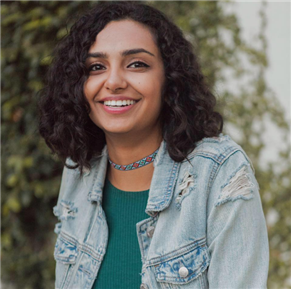 STUDIO in La Crescenta or in-home lessons.
Shahana is an LA native, from a sunny town called Palos Verdes. She grew up listening to a wide range of music, from Bollywood hits to Bob Marley. She began taking classical vocal lessons at the age of 15, and participated in choir and a cappella groups. She is currently a Vocal Performance student at Los Angeles College of Music, finishing up her final quarters. Shahana plays original music in LA with her band, as well as sings in bands as a background singer. Her soulful, soothing voice can inspire students of all ages. Shahana teaches Voice. She specializes in teaching rock, pop, jazz, classical, and R&B styles up to advanced levels. Also, she can teach in Mandarin, Urdu and Hindi.
Maxwell Reed
STUDIO in La Crescenta or in-home lessons.
Max teaches Drums, Bass Guitar and Piano in English and Mandarin, for all styles and all ages. His goal is to create a comfortable environment for students and to make sure they enjoy his lessons. He has taught private lessons to students of all kinds, even some with special needs. Max has played alongside many famous bands live including Red Jumpsuit Apparatus, Drowning Pool, Michale Graves, and more. He is about to complete his B.A. in Music and Communication at the Chapman University.
Max is proficient in teaching any level of drums, songwriting, and technique. He can also teach proficiently the basics of music theory and advanced Rhythm.
At Fun Music, Max's sparkling personality is well loved by all of his students.

STUDIO in La Crescenta and Glendale or in-home lessons in Glendale.
Ashot is a well-known Armenian musician: pianist, composer, songwriter, arranger, producer, and Voice/Piano teacher. A graduate of Yerevan State Komitas Conservatory (with a Master's Degree in music Performance and Education), he, along with classical music, has been a lover of Pop and Jazz music from an early age. Among his influences are Frederic Chopin, George Gershwin, The Beatles, Led Zeppelin, Oscar Peterson, Bill Evans, Herbie Hancock and Quincy Jones. In 1988 he was invited by the National Centre of Children's Art, Music and Aesthetics to work as a music director and arranger for its Musical Theater. There, he organized a small group of singers, mostly teenage girls, which later evolved into his original Jazz-Pop choir. In 1990, the choir was featured on National Television, performing the famed The Beatles hit "Let it be," and becoming an instant sensation. The work with this choir within the next 3-4 years brought many awards and fame to Ashot as well as to the young singers, many of whom went on to become nationally acclaimed Pop stars. As a part-time professor in the Yerevan State Komitas Conservatory Jazz Department, the Yerevan State Pop & Jazz College, as well as privately, in his own Home-Studio, Ashot made it his top commitment to find , through individual approach, each young singer's personal strengths, and, through the development of a musical taste and the choice of the right songs, help each of them reach the pinnacles of their potential. The results were participating and winning numerous prestigious international competitions, such as "Thelonious Monk International Jazz Competition", "Eurovision Song Contest" and "American Idol." Needless to say, many of these solo protégés joined the list of stars in the Armenian Pop Hall of Fame. Ashot has been teaching in the Los Angeles area since 2006.

STUDIO in La Crescenta and Glendale or in-home lessons in Glendale.
Monica is a Los Angeles based classical guitarist and instructor. She began her musical studies on the piano at age 6 with pianist Tsoline Hajian, performing in recitals at the Brand Library in Glendale. She continued studying piano with professor Louanne Long while at the University of Redlands. She began playing the electric guitar as a teenager and soon discovered her love for classical guitar. Monica graduated with a Bachelor of Arts Degree from the University of Redlands in 2003. In 2011, she received her Master of Music in classical guitar performance from California State University Fullerton where she studied under David Grimes. During this time, she was a member of the Fullerton Guitar Orchestra with whom she toured California in the spring of 2008 and Bulgaria in the summer of 2009. She also performed in recitals as a soloist and in a guitar duo. Monica served as a piano accompanist to the Verdugo Woodlands elementary school orchestra and wind ensemble. She can teach guitar and piano in all styles, both in English and Armenian.
FunMusic4u@gmail.com (818) 925-6FUN
Studio lessons in La Crescenta.
Servicing areas in and near the following areas for In-Home lessons:
Altadena
Burbank
Eagle Rock
Echo Park
Glassell Park
Glendale
Hancock Park
Hollywood
La Canada
La Crescenta
Lake View Terrace
Los Angeles generally as we expand
Los Feliz
Montrose
North Hollywood
Pasadena
Sherman Oaks
South Pasadena
Studio City

Silverlake
Sunland
Toluca lake
Tujunga
Valley Village
Van Nuys
CLICK HERE to register online for a free introductory lesson!