Halloween Recital 2019 Date & Info
Thursday, October 3, 2019 by Trevor Eisenman | Performances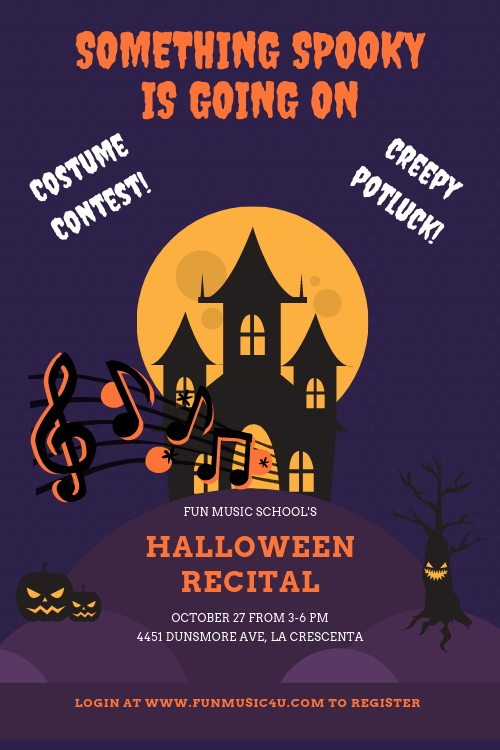 The Halloween Recital date will be on Sunday, Oct 27th, from 3pm to 6pm at our La Crescenta studio at 4451 Dunsmore Ave.
I was hoping to book Saturday, but turned out there was already an event booked that weekend at the church. So, Sunday it is!
Online Registration
Visit www.funmusic4u.com. Use the "Forgot Password" feature if you haven't logged in before. Whichever parent registered a student was automatically sent login info for the Parent Portal at the time of registration.
Once logged in, click on Calendar (left-side menu)
Use the View button to change the Calendar from daily to monthly (top right of calendar)
Find the date and click the event
Click the Register link. You're done!
What to Expect
If this is your first recital with Fun Music School, here's what to expect for Halloween:
Performances: Participation is encouraged, but optional. Students may perform any piece they wish, we only ask NO CHRISTMAS holiday pieces. There will be a card to fill out at the recital to write down which piece will be performed.
Costume Contest: Dressing in costume is optional (students, parents, pets...). The audience votes on each performer's costume for their favorites in different categories:
Most Creative
Most Scary
Most Gross (ewwww...)
Most Funny
We'd love some giveaway items for the winners and raffle giveaways for extra fun. Got some? It's ok to promote your own business with the giveaway, but of course, it should be family friendly.
Potluck: We've timed the event to end around dinner time. Please bring some food to share with the bonus of not having to make dinner after the recital! If you'd rather chip in for a Big Mama's and Papa's 3-foot pizza, let me know and bring about $5 to the recital. We don't charge for recitals, so there's no budget for extras.
Help the Homeless: We do have to cover the cost of using the facilities for the recital. Please bring $5-10 (or more if you wish) for the donation tin (or more likely, plastic pumpkin!). All of the funds will be forwarded by UU to Ascencia (www.ascenciaca.org), which is dedicated to helping the homeless find a home.
Anyone may attend the recital, even if they don't plan to perform. Please feel free to invite your family members, friends and neighbors to attend and cheer on the performers. A big crowd makes a big difference!
Thanks,

♫ Trevor Eisenman
Managing Director
Fun Music School
cell: 626-975-6726
Serving the Crescenta Valley since 2003